Bar and Restaurant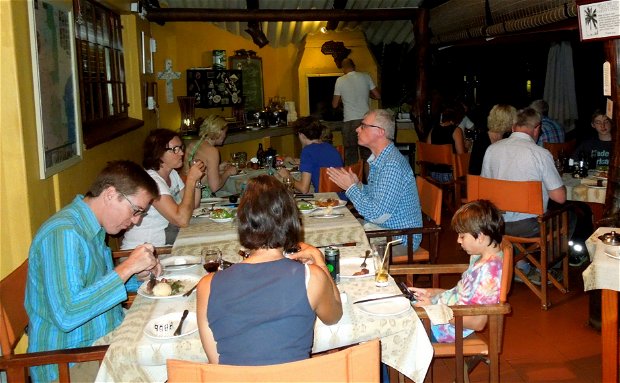 Trees Too has a fully licensed bar and restaurant. We serve breakfast and dinner from a varied menu. on particularly busy nights we may serve a buffet or traditional South African braai/barbeque (always with veggie options!). We can also provide lunch packs by prior arrangement.
We have no self catering facilities at all...so enjoy a real holiday! Book a table for dinner in advance to be sure that we can accommodate you.
Breakfast
Served 07:00-08:30 (0730-0900 on Sundays and public holidays)
To set you up for the day ahead, our sumptuous breakfasts consist of a cold buffet of fruits, cereals, cheeses, juices, cold meats, yogurts and toast followed by eggs, bacon, sausage, tomato, beans and mushrooms, cooked to order. All this comes with as much tea and coffee as you can drink, so you shouldn't leave us hungry.
Picnic breakfasts are available for those making an early start (Our gates open at 0500), but please order these before 1800 on the evening before you need them
Dinner
Served 17:30-20:00
We provide evening meals from a varied menu (see below) and produce an eclectic range of cuisine from Springbok medallion and Kudu Stew to Fillet Steak, Lamb Curry and Bobotie.  Putting you very much at the top of the food chain are our well regarded braais (barbecues to you non SAFs) and other traditional buffets. We hold these for larger numbers of guests or just to add a little theatre to the evening. We happily cater for vegetarians, vegans, gluten or carb free and other diets, but ideally let us know in advance so we can make a plan.
If you will arrive after 2000 (but before we lock the gates at 2200), let us know in advance if we can provide snacks for you such as sandwiches or salads. We'd love to serve food later, but severely limited staff transport makes this impossible.
We stock a selection of good to excellent South African wines to complement our food or simply to enjoy on their own merits